The Changing Landscape: The Long-Lasting Effects of Covid on the Construction Industry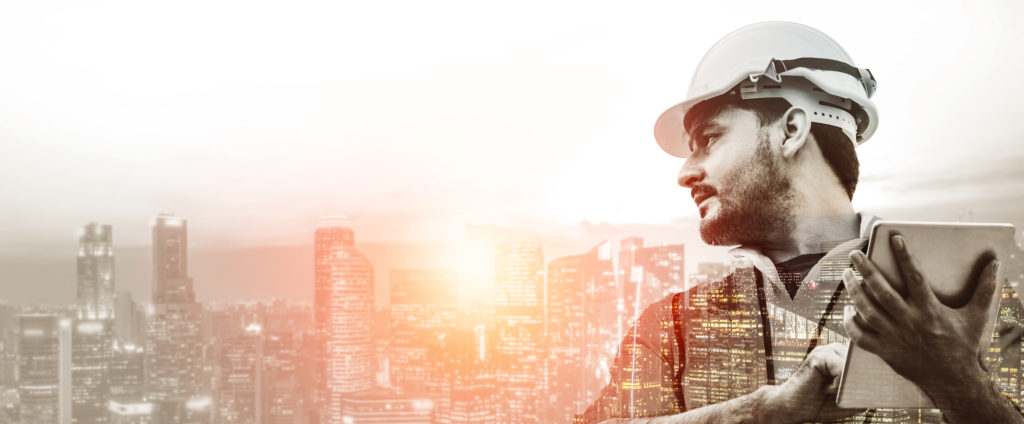 No industry has been free of uncertainty in the last two years. Every sector—from real estate to education to restaurants to arts and entertainment— has suffered some form of a paradigm shift, followed by any number of roadblocks, obstacles, or surprising blows. During the covid pandemic, the construction industry has not been spared and those involved in the day-to-day construction of our nation's infrastructure continue to use their well-honed innovative spirit to adapt.

So how has the pandemic etched itself into the core operations of the construction industry?

We try to make sense of it all. Let's take a closer look.
Long Term Effects to the Nation's Construction Industry
In the early days of the pandemic, the entirety of the construction industry was plunged into uncertainty. From there, in the Spring of 2020, many contractors and construction companies had to adapt at warped speed, hurled into immediate infrastructure projects, or were stalled for months at a time. The pace of change was extraordinary, and it meant that companies had to adapt to changing safety guidelines while keeping workers on the job.

This was no easy task.

Some of the most pressing challenges included things like the reevaluation of worker health, finances, and other core operations.
The Redefinition of Worker Safety and Risk
The construction industry has always carried a certain amount of risk. Nobody goes into construction because it is a sheltered and predictable job. On the contrary, people in the construction business — from field workers to project managers— have a certain amount of aptitude for unforeseen circumstances, problems, and contingencies.
Let's just say construction folks have a certain innate resiliency that allows them to react quickly when something does not go as planned, and —let's face it— most construction projects will present surprising and unique challenges.

Some of the implemented changes regarding employee health and safety have varied over the course of the pandemic. Some of them were implemented short term during certain spikes, and others might become long-term changes:

Improved security of worksites so that works and project managers are aware of who is on the premises at all times
Frequent temperature checks at the worksite
Improved handwashing, hand sanitizing, and disinfection policies, infrastructure, and equipment
Implementation of staggered work times or social distancing when appropriate
Improved Use of Technology
When things were shutting down, technology came to the rescue, and some of those changes might be here to stay. Tools for project management have improved twofold and become an important asset for small companies, as well as those managing large projects and a large number of employees.

What are some of these amazing technologies?
Data collection applications
Heightened portability offered by tablets, phones, and computers, allows for the collection of data and data points to be easily accessible throughout a construction site. These applications help construction workers and project managers gather, collect, and analyze data more accurately and efficiently than ever before. Data collection apps help save time, streamline processes, enhance workflows, help with instant reporting, and more.
Drones
The influence of this exciting technology has only tripled during the last two years. It allows for site surveys to be conducted faster and with more accuracy. Thanks to highly sophisticated video and accuracy, it allows for precise data collection and the rendering of 3D models when necessary.

Building Information Modeling Software
Consider an interactive model that team members can collaborate on for better and more immediate renderings. This new possibility allows real-time changes and thereby speeding up the process.
3D Printing
While somewhat still on the horizon as a readily available tool, we would be remiss if we didn't mention the potential of using 3D printing for construction. It can help companies in the prefabrication stage.
Artificial Intelligence
This is another exciting technology that is slowly infiltrating some of the processes in the construction industry. It has the potential to improve workflows and get jobs done faster and more efficiently, although it is still in the early stages of implementation.
The Fusion of Remote Work
There are some aspects of construction, of course, that could never be fully remote, but the pandemic did force companies to strategize and find ways where certain aspects of a job or process could be completed offsite. This may apply to back-office workers, billing, and other support staff whose job is not dependent on being on-site.

Get Quality Construction Work from America's Most Resilient Workforce
Every job industry was touched by the effects of this pandemic, as was every individual life and family, but the construction industry is known for its ability to adapt, learn, and regroup, and we're doing just that. From the uncertain closures to restrictions to supply shortages, we show up, we work, we do it right.

Want to learn more about a trusted and local New Mexico Construction Company? Call Constructors, Inc today and find out more.

Like this content? Share it here!